Top-tier detailing and paint protection film
Why detail your vehicle?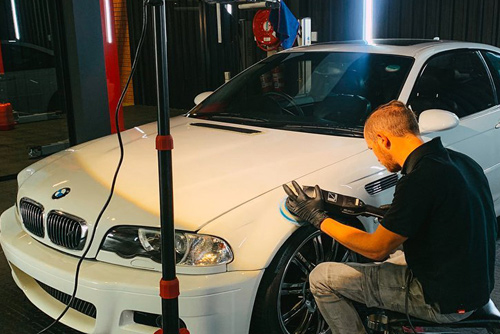 Daily exposure to pollutants, mainstream vehicle care products, minor blemishes and tiny scratches can all take their toll on the condition of your vehicle's paintwork. Our detailing process eliminates all accumulated surface pollutants, allowing the detailer to work on the original, authentic finish of the exterior paintwork finish. Following on from detailing, a range of protective coatings or protective films are applied to maintain the level of finish and prevent future damage or contamination to the vehicle's surface, and thereby maintaining the quality of the enhanced finish attained in the detailing process
Detailing by Experts

You don't want just anyone detailing your vehicle, so at MTown Customs, one of our Top Tier Certified experts detail your vehicle. Our professional detailers know the proper techniques to cleaning your cherished vehicle using only the highest quality of Feynlab and Rupes detailing products. We have two permanent detailing bays along with a state-of-the-art spray booth to repair those minor scratches.
What is car detailing?

There are major differences between a "car detail" and "car wash", most people think they are the same thing, but auto detailing goes much deeper than simply cleaning your car inside and out.
Our Auto detailing process has
6 steps

:
Wheels, Tires Tyres and Wheel Arches

The first step of our 6 6-steps car detailing process is to give some attention to your wheels, tyres and wheel arches as these are your car's point of contact with the road surface. These areas are often the worst affected parts of the car and become very easily caked in brake dust and dirt from day-to-day driving, so we target them first to ensure that they don't contaminate other areas of the car later on in the car cleaning process.

Wash

The Wash is step 2 of our 6-step process. Washing your car's exterior is arguably the most recognisable step of vehicle detailing. Our 3-part wash process is the best way to a swirl-free finish!


Part 1


Before beginning with the exterior wash process, we ensure that heavily soiled areas such as engine bays, fuel filler flaps, and door shuts are suitably cleaned to minimise the risk of debris transfer onto the paintwork.

Part 2


Applied through a snow foam lance pressure washer attachment. This pressured application creates a thick foam that clings to the dirt on the surface of the vehicle, removing most of the dirt without the need for contact.

Part 3


A safe wash is achieved by ensuring as much dirt and debris as possible is removed from the vehicle prior to contact, this is done by following parts 1 and 2. To remove the last remnants of grime we use the 2-bucket wash method.

Decontamination

Decontaminating a vehicle removes the impurities and imperfections that washing cannot, using a range of specially formulated products. While daily grime, dust, and debris can be easily cleaned off, contaminants such as brake dust, water spots, industrial fallout, and even old layers of wax can bond to the paintwork, spoiling an otherwise flawless finish.

Paint Correction

Paint correction is step 4 in our 6-step detailing process. Paint correction is the process of levelling (removing) imperfections in the surface of the paint. This can include a variety of issues and causes like water spots, paint over spray, wash scratches, wipe down marks, bird dropping surface stains, oxidation and buffer holograms. This can totally revitalise the paintwork, reducing the appearance of undesirable marks in the paint or completely removing them and restoring that factory fresh appearance.

Protect

Sealants are chemically engineered products designed to "Seal" in the finish that has been achieved through your correction process. They will also have the added benefits of enhancing the gloss levels and producing a sharp, clean finish. These products contain different polymers, resins, and synthetic agents to give increased durability when compared to traditional wax.

Finishing

The final step in the 6 steps of the detailing process is aptly named finishing and involves adding those final touches that can make all the difference. Ceramic coating is a chemical polymer solution that is applied to the exterior of a vehicle to protect it from external paint damage. Typically applied by hand, it blends with the paint of your car and creates an additional hydrophobic layer of protection.
Maintenance wash by experts

Good things take time. Our professional wash takes around two hours, and we use safe methods and chemicals to minimise swirling. Our maintenance wash is an excellent package for those wanting to keep their vehicles clean without compromising the condition of the paintwork or for those that have recently had their vehicle detailed. It is designed to maintain the longevity of the protective layers and defect-free paintwork.